Were you ever injured while playing with a toy as a kid? Whether you fell off your bike and scraped your knee or hurt your eye with a flying object from a toy, you are not alone. Toy injuries are common.
According to a 2014 study published in the medical journal Clinical Pediatrics, over three million US children were treated in emergency departments for a toy-related injury from 1990 to 2011. In 2011 alone, that translates to a child getting hurt every three minutes. A little over half of the injuries are to young children under the age of six.
So what types of health and safety hazards plague our toy shelves? One of the most prominent dangers among unsafe toys is those with small parts. These are particularly dangerous for children under three. Toys with small parts, designed for older children, can cause choking when a tiny tot puts them in his or her mouth.
Age-appropriate play
Unfortunately, not all toys are safe or age-appropriate. Injury often results when a toy is misused or used by children who are too young
for that particular toy. This is very tragic considering how much effort goes into protecting the youngest members of society.
"The right to safety is a paramount right of a consumer," clarifies Antonio Bonacruz, Test Coordinator of children's products at CHOICE, a consumer advocacy group based in Australia. "Consumers expect that toys are as safe as they can be. Toy suppliers must ensure that the toys they supply are suitable for the age of the child for which they are intended."
Toy makers need to be aware that children of different ages have varying abilities, interests, preferences and strengths. They also need to consider that the safety of children relies on giving them the right toys to suit these traits. Bonacruz explains: "Suppliers must clearly indicate the age suitability on toys, and they must do it based on reliable sources such as standards and professional evaluation, and not on guesses, and certainly not on what they simply think would cover their backs."
Age determination is an important factor in ensuring that toys are appropriate and safe for their "little" users, says Dr Pratik Ichhaporia, Director, Technical Services, North America, at Intertek, a total quality assurance provider. He explains: "Age grading of toys is very important to enable the manufacturer to design toys for intended audiences and ensure that a toy is subjected to appropriate safety requirements."
Safeguards and standards giving guidance as to the age appropriateness of certain toys can make a significant positive impact on the safety of toys in the marketplace. These safeguards can also contribute to a dramatic decline in toy-related injuries.
Diverging standards
Age grading of toys has long been one of the more subjective tasks for manufacturers, retailers, importers and testing labs. Diverging national and regional standards have only complicated matters further by offering no unique source of reliable information.
Bonacruz admits that variations in regulation and standards for toys and games from country to country and region to region can cause issues for manufacturers. Referring to the number of different standards, he summarizes: "For decades, there has been a lack of a reliable information source that gives guidance as to what ages of children a certain toy is suitable for. There are a few reference materials, but most are out of date. In other regions, there is no uniformity in how age determination is conducted."
Putting aside the lack of harmonized standards, some toy makers may also face disadvantages due to size. Bigger toy suppliers, and perhaps some government bodies, probably do have experts who conduct the age determination whereas the smaller players most likely do not.
Yet, despite all these issues, age determination is a critical step in the distribution of toys and children's products for a number of reasons.
Instilling confidence
In an effort toward furthering the alignment of global toy safety requirements, ISO has just published ISO/TR 8124-8 addressing the determination of the lowest age at which children start playing with toys in specific toy sub-categories, which is based on the development stages and abilities of children. ISO/TR 8124-8 is the eighth part of the ISO 8124 series of standards on the safety of toys and provides a comprehensive solution to age grading questions, taking account of current anthropometric, developmental and behavioural expertise.
Let's work together to make child safety and security a reality.
The other seven parts of the series specify requirements or test methods for different categories of hazards or toys and have many dependencies on the age of the intended user. These standards have become increasingly influential in the development of requirements for toys worldwide and are fully adopted by many countries or used in the creation of their own national standards or regulations.
Of the new technical report's appeal, Ichhaporia says: "ISO/TR 8124-8 is succinct, making it user-friendly to evaluate a toy's age grade. Additionally, since it was recently developed and had various stakeholders including regulators, manufacturers and service providers engaged in the development process, the document takes into consideration recent data and developments in this area."
So how has this ISO technical report been received by the marketplace? And are toy makers using it in their products?
Making products safe
Hasbro, one of the largest toy makers in the world, manufactures millions of toys for children of all ages each year around the world. The company uses ISO/TR 8124-8 in its age grading process.
Lisa Deluise, Quality Product Analyst at Hasbro, explains: "ISO/TR 8124-8 provides us with an additional and important tool for use in the determination of the appropriate lower age grade for a product. It is also viewed as the most current document that includes guidelines for new technologies (e.g. electronics, computers, software) that are being incorporated into toys."
Deluise admits that the preparation and review of ISO/TR 8124-8 by an international group of experts in toy safety makes it stand apart from all the others. "The technical report is important to Hasbro because it is an international consensus document which has collected and represents different viewpoints and cultures from around the world. At Hasbro, this type of forward-looking standardization is important to us."
Hasbro's Quality Product Analyst isn't the only one that believes that ISO/TR 8124-8 is an important step toward further aligning global toy safety requirements. Referring to global harmonization, Bonacruz comments : "I think ISO/TR 8124-8 is the first document that internationalizes age determination of toys. With the amount of international involvement in its development, and the level of trust given to an ISO publication, I am confident that ISO/TR 8124-8 will become widely used internationally."
No doubt that the technical report will simplify matters for regulators and industry – as long as consumers respect the warning labels. But, sadly, this sometimes is not the case.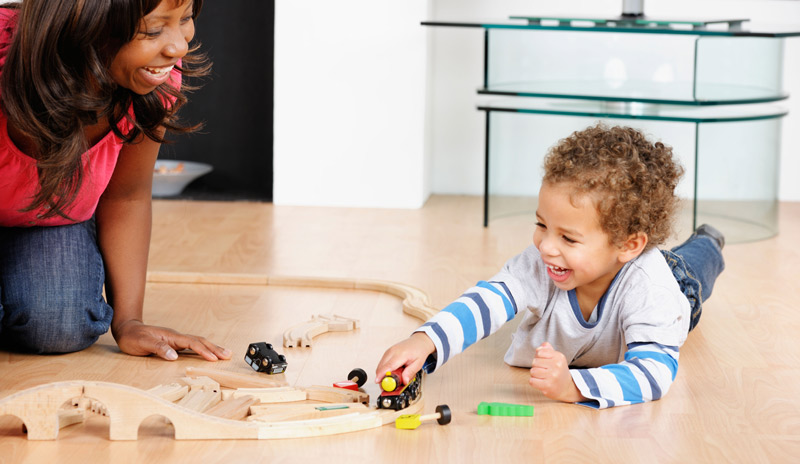 Parents' responsibility
What adult hasn't been tempted to choose a toy for an advanced two-year-old by looking in the toy section for much older children? The adult may not have realized that small parts, which are a choking hazard for the two-yearold child, may have determined the age recommendation instead of the cognitive development level. Even the size of the pieces if the toy breaks must be considered.
Millions of toys are out there, and hundreds of new ones hit the stores each year. While it's One thing for manufacturers to include warning labels on toys, it's another thing for parents to follow them. For instance, when a label asserts, "this toy is not appropriate for children under 3", it isn't because the manufacturer thinks the item might be too tough for a 24-month-old to figure out, but because the toy is small (or has small parts) and poses a choking hazard.
By choosing age-appropriate toys – which is not far removed from requiring a child to wear a helmet – parents reduce their offspring's risk of injury. After all, toys should be fun for children; they shouldn't be dangerous or cause harm. Let's work together to make child safety and security a reality.